Journal Impact as an Innovation Diffusion Process; five potential dimensions of journal impact; Magnitude, Speed, Prestige, Breath & Reach
See on Scoop.it – Dual impact of research; towards the impactelligent university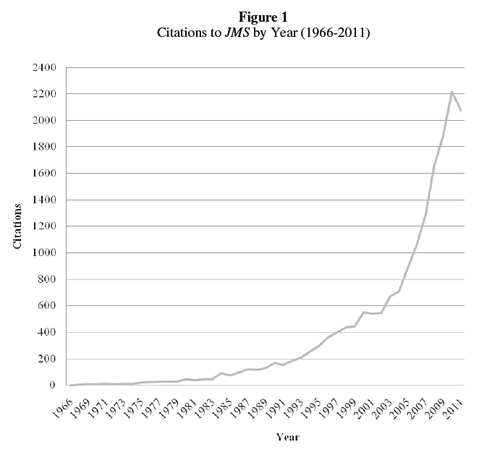 The 50th anniversary of JMS provides an opportune time to reflect upon
what makes a journal impactful.
Abstract:
While the question of what makes a journal impactful continues to draw scholarly attention and debate, the lack of conceptual foundation as to what journal impact represents, and how it manifests itself, has impeded efforts to establish a richer understanding. Drawing from the theory of innovation diffusion, we propose journal impact as a multidimensional concept manifested most prominently in the magnitude, prestige, breadth, dispersion and duration dynamics of citations accruing to a journal. In doing so, we complement extant representations of journal impact as a unidimensional concept with insights into the pattern and profile of a journal impact across space and time. We illustrate the multidimensionality of journal impact as a diffusion process in a longitudinal analysis of citation patterns at the Journal of Management Studies over a forty year period.
"Drawing upon the rich heritage of diffusion research across disparate disciplines – from rural sociology to marketing – we develop a grounded conceptualization of journal diffusion that treats impact as a system of patterned dispersion across space and time rather than as a discrete event. In particular, we identify and elaborate upon five potential dimensions of journal impact as a diffusion process: magnitude (the overall extent or volume of diffusion), speed (the rate of diffusion per unit of time), prestige (the extent of diffusion among opinion leaders), breadth (the spread of diffusion across distinct scholarly domains), and reach (the latitude of diffusion across geography). We discuss each dimension's distinct contributions to journal's impact and argue that a richer conceptualization of and insight into journal impact is possible when these five diffusion dimensions are considered together. In doing so, we not only enrich extant understanding of journal impact, but also help to rejuvenate the conceptual foundations of innovation diffusion as a theoretical construct."
source:
Journal Impact as a Diffusion Process: A Conceptualization and the Case of the Journal of Management StudiesZeki Simsek, Ciaran Heavey, Justin J.P. JansenJournal of Management Studies, accepted article, 2013
DOI: 10.1111/joms.12007
See on onlinelibrary.wiley.com