See on Scoop.it – Dual impact of research; towards the impactelligent university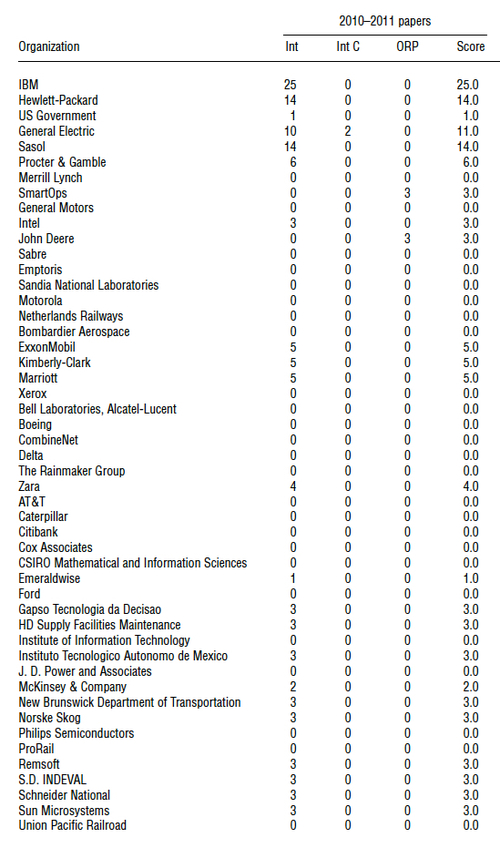 Abstract:
This paper presents the first rankings of nonacademic organizations according to their contributions to the INFORMS practice literature. Two rankings are given, each based on a different metric: visibility is the number of authors who list an organization as their primary affiliation; yield is the equivalent number of INFORMS practice papers attributable to each organization based on author primary affiliation. For the visibility rankings, IBM comes in first place, followed by Hewlett-Packard in second, the US Government in third, and General Electric in fourth place. These are followed by Sasol, Procter & Gamble, and Merrill Lynch. For the yield rankings, the US Government comes in first place, followed by General Electric and IBM tied for second, and Hewlett-Packard in fourth place. They are followed by Intel in fifth, Procter & Gamble in sixth, and Merrill Lynch in seventh place.
about the table:
The table lists visibility rankings for the top 49 nonacademic organizations with a seven-year score of
3.0 or greater. The score is the total number of citations for authors listing that organization as their primary
affiliation in Interfaces (Int) and in the OR Practice section of Operations Research (ORP) plus half the number
of unrefereed Interfaces columns (Int C). That is, ScoreDIntCORPC(Int C5=2. The table shows organizational
rankings and scores for 2005 through 2011 and scores for only 2010 to 2011.
Source:
Editorial: The First Rothkopf Rankings of Nonacademic Organizations,Interfaces / Informs October 2012
Ronald D. Fricker Jr.
doi: 10.1287/inte.1120.0649