See on Scoop.it – Dual impact of research; towards the impactelligent university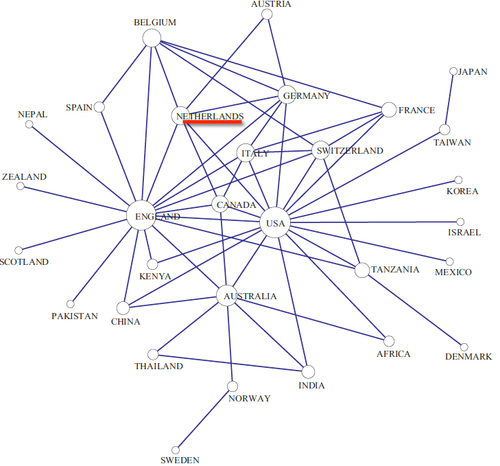 AbstractBackground
This study uses scientometrics methodology to reveal the status quo and emerging issues of collaboration in health management.
Methods
We searched all the articles with the keyword "health management" in the period 1999–2011 in Web of Knowledge, then 3067 articles were found. Methods such as Social network analysis (SNA), co-authorship, co-word analysis were used in this study.
Results
Analysis of the past 13 years of research in the field of health management indicates that, whether the production of scientific research, or authors, institutions and scientific research collaboration at the national level, collaboration behavior has been growing steadily across all collaboration types. However, the international scientific research cooperation about health management study between countries needs to be further encouraged. 17 researchers can be seen as the academic leaders in this field. 37 research institutions play a vital role in the information dissemination and resources control in health management. The component analysis found that 22 research groups can be regarded as the backbone in this field. The 8 institution groups consisting of 33 institutions form the core of this field. USA, UK and Australia lie in the center by cohesive subgroup analysis; Based on keywords analysis, 44 keywords with high frequency such as care, disease, system and model were involved in the health management field.
Conclusions
This study demonstrates that although it is growing steadily, collaboration behavior about health management study needs to be enhanced, especially between different institutions or countries/regions, which would promote the progress and internationalization of health management. Besides, researchers should pay attention to the cooperation of representative scholars and institutions, as well as the hot areas of research, because their experience would help us promote the research development of our nation.
The authors:"
The number of publications in the health management field is showing a rising trend,especially in recent years. Co-authorship is also keeping growing. And the cooperation of authors is obviously higher than that by institutions and countries. 22 research groups and 37 institutions devoted in this field, among which researchers or research team of USA and UK
are in the core position in the collaboration network. Reviewing the related articles in other fields and comparing them with the research results in oncology or cardiovascular field in earlier stage, though 81% of the articles are produced by scientific cooperation, the Cooperation intensity in the field of health management is still relatively weak, especially between institutions and countries. Therefore, the important way of promoting the progress and internationalization of health management is to strengthen the cooperation between countries and institutions and take full advantage of the core role of dominant groups"
Source:
Research collaboration in health management research communities
Chichen Zhang, Qi Yu, Qinghua Fan and Zhiguang Duan
BMC Medical Informatics and Decision Making 2013, 13:52 doi:10.1186/1472-6947-13-52
Published: 23 April 2013
See on www.biomedcentral.com