Disrupt or Be Disrupted: An evidence-based blueprint to improving the practice of graduate management education
See on Scoop.it – Dual impact of research; towards the impactelligent university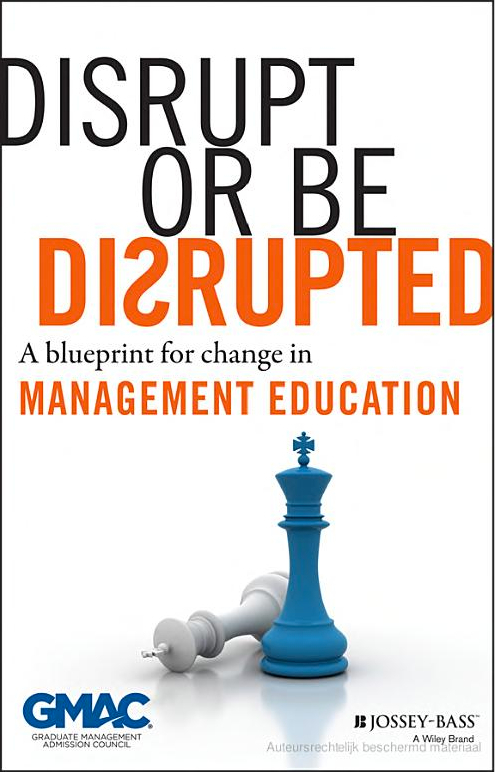 This book provides business school decision-makers with an evidence-based approach to improving the practice of graduate management education. The book is designed to help navigate the pressures and create revolutionary platforms that leverage a school's unique competitive advantage in a design distinctly tailored for today's business realities.
Contents:
Foreword vii
George S. Yip
Introduction: The Change Imperative 1
Brooks C. Holtom and Lyman W. Porter
Chapter 1 Ensuring and Enhancing Future Value 21
Erich C. Dierdorff, Denis J. Nayden, Dipak C. Jain, and Subhash C. Jain
Chapter 2 Framing and Making Strategic Choices 57
Michael Hay
Chapter 3 Managing Aspirations, Resources, and Cost Structures 95
Jikyeong Kang and Andrew W. Stark
Chapter 4 Intellectual Signatures: Impact on Relevance and Doctoral Programs 131
JC Spender and Rakesh Khurana
Chapter 5 Curriculum Matters: Toward a More Holistic Graduate Management Education 179
Sara L. Rynes and Jean M. Bartunek
Chapter 6 Overlooked and Unappreciated: What Research Tells Us About How Teaching Must Change 219
Kenneth G. Brown, J. Ben Arbaugh, George Hrivnak, and Amy Kenworthy
Chapter 7 Student Engagement: Selection, Management, and Outcomes 259
Daniel C. Feldman
Chapter 8 Reclaiming Quality in Graduate Management Education 297
Robert S. Rubin and Frederick P. Morgeson
Epilogue 347
Erich C. Dierdorff and Brooks C. Holtom
Source:
Disrupt or Be Disrupted: A Blueprint for Change in Management EducationGMACISBN: 978-1-118-60239-3, Hardcover, 432 pagesAugust 2013, Jossey-Bass
THE EDITORS
Brooks C. Holtom is associate professor of management at the McDonough School of Business at Georgetown University.
Erich C. Dierdorff is associate professor of management at the Driehaus College of Business at DePaul University in Chicago.
See on eu.wiley.com