Dramatic Growth of Open Access Journals and documents..but will it al create real impact?
See on Scoop.it – Dual impact of research; towards the impactelligent university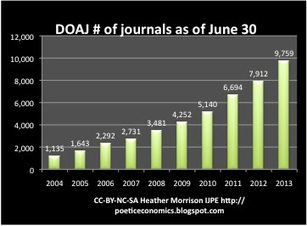 Kudos to the Directory of Open Access Journals for an oustanding second quarter! In the past few months, DOAJ has added 912 titles for a total of 9,759 journals. That's a net growth rate of over 10 titles per day, up from the previous rate of over 3 titles per day. At this rate it won't be long before DOAJ exceeds the milestone of 10,000 journals. PubMedCentral growth continues to be very strong in spite of what looks like a bit of backsliding. The percentage of articles published with free fulltext available continues to grow at a steady pace and is now up to 25%. There are now 69 more journals are actively participating in PMC while there has been a drop of 102 journals providing immediate free access and of 16 journals making all articles open access. Highwire Free shows a similar pattern – overall strong growth – more than 60,000 free fulltext articles added this quarter for a total of 2.3 million and an increase of 2 completely free sites with a drop of 6 sites with free back issues. Overall the pattern for journals is very strong growth in full open access and cooperation with PMC, suggesting that the backsliders are a very small minority.
Source:
The Dramatic Growth of Open Access: June 30, 2013Heather MorrisonAssistant Professor, University of Ottawa École des sciences de l'information / School of Information Studieshttp://www.sis.uottawa.ca/
http://poeticeconomics.blogspot.ca/2013/07/june-30-2013-dramatic-growth-of-open_4.html
http://www.ruor.uottawa.ca/en/handle/10393/24279
See on poeticeconomics.blogspot.ca