Taking the reins as a business school dean; challenge for business schools is to build curricula and supportive programs that account for current and future business landscapes
See on Scoop.it – Dual impact of research; towards the impactelligent university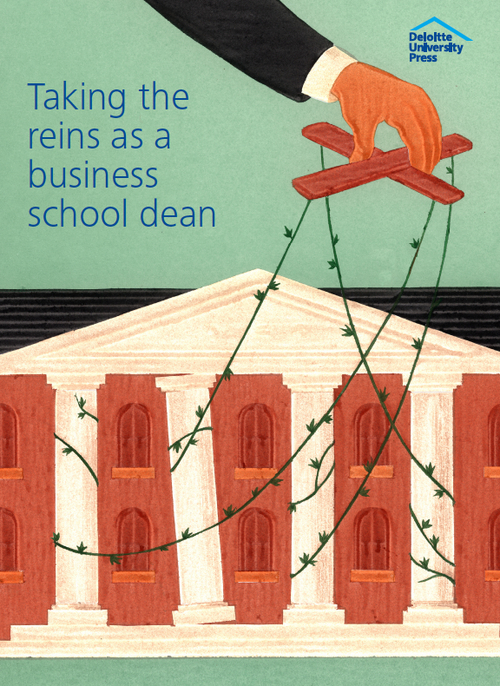 Business school deans have an expansive and complex role in the fabric of the universities and communities served by their programs. Yet many newly minted deans discover that the experiences they acquire while climbing the ranks of academia or industry do not adequately prepare them for their new responsibilities. While some deans served in department chair roles where they managed a small group of faculty peers, becoming a dean requires them to oversee a broader range of issues and operations. Rather than primarily managing individual projects, they assume responsibility for a school's research portfolio. Rather than managing relationships with a small group of faculty peers, they assume responsibility for cultivating relationships with internal staff and external stakeholders, including donors, alumni, the media, and the business community. In addition, deans assume responsibility for their school's finances and their contribution to the broader university, and they must advocate the interests of their business school among a university's senior leadership, donors, and government stakeholders to obtain the requisite resources to sustain programs or grow new ones. Similarly, industry experience by itself may not adequately prepare an executive-turned-dean to effectively recruit faculty or navigate change in an academic culture.
Incoming business school deans face a profoundly challenging environment. A worldwide economic downturn resulted in declining demand for MBA programs at many schools. Massive online open courses (MOOCs) undermine traditional models of education, and recruiters and employers are demanding a higher standard of talent from all schools. In addition, third-party rankings are significantly influencing schools' reputations, the number of applications they receive, and their revenues. All of these challenges require incoming deans to shape and execute thoughtful responses.
In 2012, Deloitte's University Relations Program interviewed 20 business school deans about their transition experiences and piloted a transition lab to help them frame critical priorities, evaluate their organizations, and develop a strategy to advance their agenda while remaining mindful of their myriad stakeholders. In an attempt to help business school deans effectively transition into their new roles, this paper synthesizes key findings from our interviews, our labs, and related experiences on executive transitions and business school strategy.
Contents:
1 The hardest thing
2 The four faces of a business school dean
3 Navigating the time, talent, and relationships triangle
4 Seven ways to garner a good start
5 A privilege and opportunity
The authors:"The dean role is a unique privilege and opportunity to shape not only a school but a generation of future leaders. For many business schools, the status quo is incompatible with the realities of the emerging business landscape. Deans will have to work as strategists and catalysts with their faculty members to adapt business schools to the digitization of education and work life, new demands from recruiters for global managers, specialization for specific competencies and industries, and the needs for lifelong learning and new career models with extensive freelance work outside of a traditional corporate structure. The challenge for business schools is to build curricula and supportive programs that account for current and future business landscapes."
Source:
Taking the reins as a business school deanDr. Ajit Kambil, Shaun Budnik
Deloitte University Press, Published April 30, 2013
http://cdn.dupress.com/wp-content/uploads/2013/04/DUP344_Business-School-Dean_vFINAL.pdf?7fc8d4
See on dupress.com