Public No More: A New Path to Excellence for America's Public Universities; how research universities can survive with reduced subsidies and increased competition from both non-profit and for-profi…
See on Scoop.it – Dual impact of research; towards the impactelligent university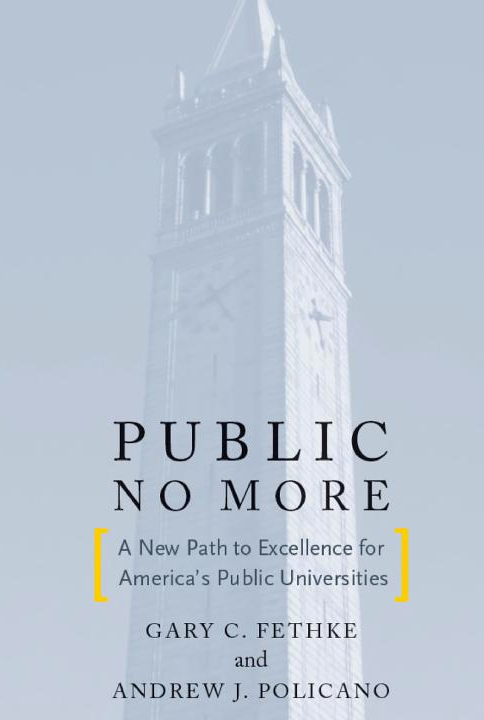 Public No More examines the quickly changing environment within higher education, including the permanent decline in state support for public universities. This book raises the question of how research universities can survive with reduced subsidies and increased competition from both non-profit and growing for-profit institutions. Authors Gary C. Fethke and Andrew J. Policano, both longtime university administrators, offer a strategic framework for determining how tuition and access should be set and how universities should decide on quality and program scope. Throughout the text, real-world examples illustrate successful and unsuccessful adoptions of the authors' proposals.
Leadership within public higher education, policymakers, and researchers alike will find Public No More to be a sober and well-grounded guide to what lies ahead for universities across the nation.
Source:
Public No More; A New Path to Excellence for America's Public Universities
Gary C. Fethke and Andrew J. Policano
Stanford University Press, 2012
Review: "Fethke and Policano do an excellent job of pinpointing the key issues in public higher education, and presenting strategic management solutions using lucid examples. Rigorous, but not overly technical, this book has a timely message, not just for higher education, but for the analysis of any situation in which strategic choices must be made and change is eminent."—John Kraft, Dean and Professor, University of Florida
Gary C. Fethke served as a university administrator for over twenty-five years, as Dean of the Business School and Interim President at the University of Iowa. He is the Leonard A. Hadley Professor of Leadership in the Tippie College of Business.
Andrew J. Policano is the Dean's Leadership Circle Professor and Dean of the Paul Merage School of Business at the University of California at Irvine. He is widely recognized for his innovative leadership, which spans twenty-two years in three deanships.
See on www.sup.org