In search of relevance: The changing contract between science and society; introducing the credibility cycle as heuristic
See on Scoop.it – Dual impact of research; towards the impactelligent university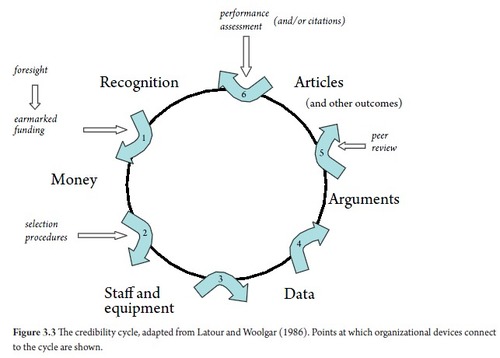 Abstract
This paper reflects on the relevance of academic science. Relevance plays a central role in what we define as the 'contract' between (academic) science and society. The manifestations of relevance in the daily practice of academic research can be studied using the credibility cycle. Together, the science—society contract and the credibility cycle enable a systematic analysis of relevance in scientific disciplines. This is illustrated with a case study of academic chemistry in The Netherlands. We conclude that science's search for relevance is not new, but that its meaning changes together with changing ideas about the potential benefits of scientific research.
The authors:"The 'relation between science and society' and 'scientific practice' are both vague concepts trying to grasp complex pieces of reality. The strength of our approach is that we have developed a model in which
both are reduced to something that does justice to reality and at the same time allows for systematic analysis. Our notion of the contract clearly articulates the relation between science and society in terms of a limited
number of variables. Similarly, the credibility cycle may not give an exhaustive overview of all activities involved in scientific research but it does
describe the general pattern in which all activities have a position. Assuming that all scientists' actions aim to contribute to the conversion of credibility, the form of this cycle becomes a crucial factor determining
scientific practice.
Source:
Laurens K Hessels, Harro van Lenteand Ruud Smits
In search of relevance: The changing contract between science and society Science and Public Policy (2009) 36(5): 387-401 doi:10.3152/030234209X442034
Corresponding dissertation (2010) is here fultext:
http://www.uu.nl/SiteCollectionDocuments/Corp_UU%20en%20Nieuws/Proefschrift%20Laurens%20Hessels.pdf
See on spp.oxfordjournals.org