From the boardroom to the business school classroom. So, you want to be a business professor?
See on Scoop.it – Dual impact of research; towards the impactelligent university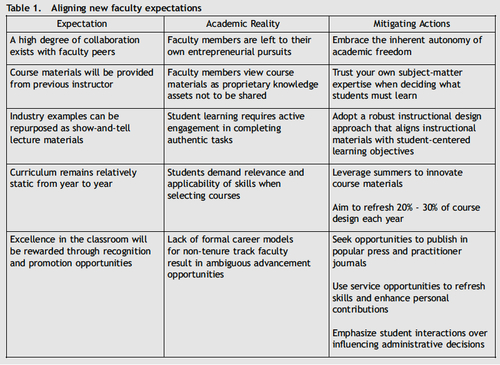 Abstract
Career transitions within the same industry are challenging enough, but transitions across sectors are even more difficult. Underlying cultural and operational differences between industry and academia present significant hidden obstacles for practitioners seeking to become teachers in higher education. To help expose these challenges, I recount—in this Executive Digest—my personal experiences leaving the consulting profession for a role as a faculty member at the Kelley School of Business, Indiana University. I offer comparisons between the two career models, illustrate specific examples of misaligned expectations, and conclude with practical suggestions to ease the transition and set forth a solid foundation for longevity in academia for non-researchers.
The author: "For those seeking an opportunity to leave industry and begin a career in academia, there are a number of differences between the perceptions and realities of being a non-tenure track faculty member that may further compound the problem. These perceptions often lead to a period of inflated expectations that overemphasize the more glamorous aspects of teaching, such as being acknowledged for your accomplishments, recognized for your content expertise, and thanked a million times over in the receiving lines at annual graduation processions. When the role is fully revealed, however, many faculty members feel duped and even disil- lusioned by the realities of their new role. Whether it is the lack of career progression or the unexpected amount of work that goes into designing, developing, and delivering curriculum, there are a number of unanticipated challenges that may cause some to regret their decision."
Source:
Business Horizons
Available online 10 May 2013
In Press, Executive Digest
So, you want to be a business professor?John E. Wisneski Kelley School of Business, Indiana University, 1309 E. Tenth Street, Bloomington, IN 47405-1701, U.S.A.http://dx.doi.org/10.1016/j.bushor.2013.04.007,
See on www.sciencedirect.com