How good is research really? Measuring the citation impact of publications with percentiles increases correct assessments and fair comparisons
See on Scoop.it – Dual impact of research; towards the impactelligent university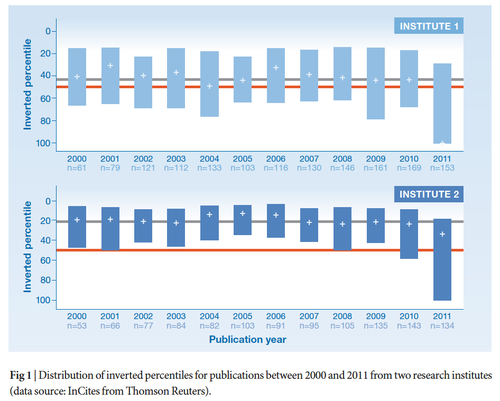 The goal of bibliometric research itself is the development and testing of new performance indicators for research evaluation. For example, to address specific disadvantages of the original h index, nearly 40 variants of the h index have been proposed, most of which are redundant in terms of their application. We need new citation impact indicators that normalize for any factors other than quality that influence citation rates and that take into account the skewed distributions of citations across papers. The percentile indicators described in this paper might provide a solution.
The authors:" In addition to analysing the distribution of percentiles, it is possible to focus on percentile rank classes. Bornmann proposes—also as an alternative to the hindex —the Ptop 10% or PPtop 10% indicators, which can be considered to belong to the group of 'success indicators' in bibliometrics, to evaluate an institute. These indicators count the number of successful publications by a research unit, taking into account normalization over age and field. Ptop 10% is the number and PPtop 10% is the proportion of publications that belong to the top 10% most frequently cited publications. A publication belongs to this group if it is cited more often than 90% of publications published in the same field and in the same year."
"Ptop 10% and PPtop 10% have the additional benefit that they do not use an arbitrary threshold to determine the successful publications in a set, which is a disadvantage of the h index."
"PPtop 10% offers a third advantage over the h index in terms of allowing direct comparisons between publication sets. Statistically, it could be expected that 10% of publications from a random sample (drawn from InCites) would belong to the top 10% of the most-cited publications in a given subject category and publication year. The expected PPtop 10% would therefore be 10%."
Source:
science & societyEMBO reports (2013) 14, 226 – 230 doi:10.1038/embor.2013.9How good is research really?
Measuring the citation impact of publications with percentiles increases correct assessments and fair comparisons
Lutz Bornmann & Werner Marx
See on www.nature.com