What makes business school research impactful? Academic visibility, Prominence, perceived quality or collaboration?
See on Scoop.it – Dual impact of research; towards the impactelligent university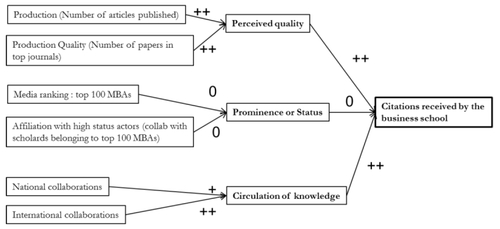 ABSTRACT
What makes business school research impactful? What determine the number of citation a business school received? The relative proportion of articles published by North American business school is declining (less than 50% in 2010) while the number of citations received by north American business schools better resists (70% of market share in 2010). This paper explores the determinants of academic impact measured by citations at the business school level and the evolution over the last 20 years. It analyzes the respective influence of different effects on the total number of citations: media ranking, number of publication, number of publication in top journals, collaboration with prominent actors (top 100 MBAs), the number of article produced and national/international collaborations.
The paper assesses impact by counting systematically citations at the organization level. The results show that media ranking influence more the visibility of academic work and scholarship than the number of paper published or the quality of journals. Such results question the functioning of academia in Management and shed light on the interrelationship between status and reputation in academia.
The authors:"To cope with the growing number of publications and high work pressure, scholars are selecting what they read not only according to the status of journals but rather according the reputation of the institution the scholars come from. The triggers of visibility are becoming circular. Scholars are reading and citing other scholars from high reputation institutions to attest that they also belong to the network of reputable scholars. It increases the reputation of those scholars and of their institution, leading to higher levels of citations."
Source:
ACADEMIC VISIBILITY: PROMINENCE, PERCEIVED QUALITY OR COLLABORATION?
Charles Baden Fuller*, Mustapha Belkhouja**, Vincent Mangemati
Fulltext: http://mosaic.hec.ca/documents/file/CBFMBVM2013%20-%20Academic%20visibility.pdf
See on mosaic.hec.ca