Researchfish; a new Research Outcomes System for researchers and funders
See on Scoop.it – Dual impact of research; towards the impactelligent university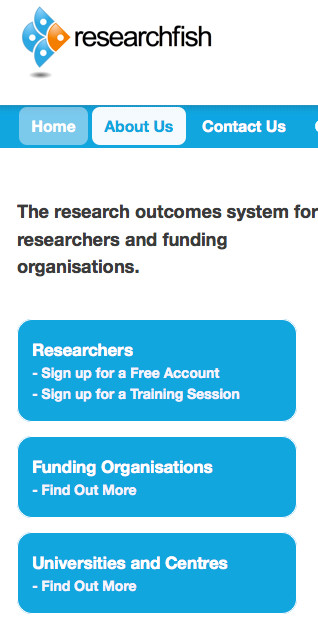 Researchfish is a simple to use Research Outcomes System designed to enable a researcher to report once across multiple funders, re-use their data for their own use and; have control on who sees and access's their data. Researchers can use their Portfolio data to create CV's . A simple to use one click environment for adding research outcomes to be stored and or attributed to an award. Research outputs are defined into thirteen easily recognised types. A researcher, or one of their delegates, can add, edit and delete entries, and attribute entries to awards they hold or to one of their CV's held in the Researchfish Portal.
Researchfish e-Val is the interface used by funding organisations to report on the outcomes attributed to them. It has a permissions based interface which is simple to use and a comprehensive reporting capability removing the need for lengthy and expensive data cleaning and analysis. Funding organisations benefit from a greater accuracy of validated data from source, enable accurate real time reporting and drastically reduce the administrative burden of evaluation.
Publications Direct lookups to pub med and bulk upload capability as well as manual entries for Books, book chapters, Monographs, Policy briefings and reports, journal articles, conference proceedings and abstracts
Collaborations and Partnerships Here the researcher can record new collaborations with other organisations and partners, Researchfish contains a pre populated list of organisations and departments from the eVal interface organisations can report on associated metadata such as location, industry type and market sector, without having to ask the researcher for that information or rely on manual input. Further Funding A researcher can choose to relate one award with another; in this case further funding is automatically recorded at the click of a button. Alternatively further funding can be entered manually and again enables to use autolookup fields for funding organisations. Development of products and interventions
Outcomes on new products and interventions, the development stage of existing products, clinical trial stage,funding sources, achievements and impacts applied to those products and interventions are entered simply with drop down selection and extensive online help and guidance Intellectual Property and Licensing Here data is not only captured on patents but on copyrights and patents pending. nfluence on Policy, Practice and the Public Here details of the influence and impact are captured against criteria affecting all medical research such as changes in survival, morbidity or quality of life, changes in efficiency of health care delivery, as well as economic impacts. These are captured against location date and type of influence. Awards and recognitions
Here a researcher can store details of their recognitions from being invited to speak at conference to medals and Fellowships Other Outcomes gathered include:
Next Destination and Recruitment, Engagement activities, Research materials, tools methods and databases, Impacts on the private sector, Use of facilities and Resources.

See on www.researchfish.com