Excellence mapping – Ranking and mapping of research institutions based on excellent paper output (top 10% most cited)
See on Scoop.it – Dual impact of research; towards the impactelligent university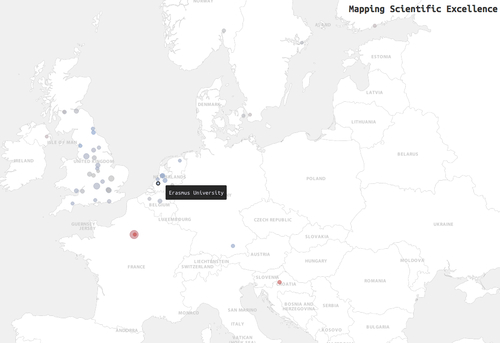 The web application "Mapping Scientific Excellence" allows for an analysis to reveal centers of excellence (institutions: universities and research-focused institutions) in different subject areas worldwide. Based on publication and citation data gathered from Scopus (Elsevier), field-specific excellence can be identified in institutions where highly-cited papers (papers belonging to the 10% most cited papers within its fields) have been frequently published. Thus, only specific aspects of institutional performance are taken into account and other aspects such as teaching performance or societal impact of research are not considered.
The web application combines both, a list of institutions ordered by different indicator values (publication output and citation impact) and a map with circles visualizing spatially these values for geocoded institutions. Compared to the mapping and ranking approaches introduced hitherto, our underlying statistics (multi-level regression models) are analytically oriented by allowing (1) the estimation of values which are statistically more appropriate than the observed number of excellent papers for an institution; (2) the calculation of confidence intervals as measures of reliability for the institutional citation impact; (3) the comparison of a single institution with an "average" institution in a subject area, and (4) the direct comparison of at least two institutions.
Only institutions are considered in the web application that have published at least 500 articles, reviews and conference papers in the period 2005 to 2009 in a certain Scopus subject area (e.g., Physics and Astronomy or Materials Science). The citation window is from publication until the end of 2011. Excellent or highly cited papers are defined as those among the 10% most-cited papers in a field (papers in or greater than the 90th percentile, referred to in the following as class 10% papers). A multilevel logistic regression analysis was calculated to analyze the probability of an institution to publish excellent papers within a subject area. The model allows the calculation of shrinkage estimates which are more precise than raw probabilities (empirical Bayes estimates, EB). The estimated standard errors and corresponding confidence interval takes design effects into account which are more efficient and consistent estimates than the corresponding standard errors and confidence intervals obtained in a sampling procedure which does not consider any clusters (i.e. institutions). Additionally, multilevel models provide a very easy way to compare institutions, that is, whether they differ statistically significantly in their probabilities of having published class 10% papers.
See on www.excellencemapping.net