Business Schools Professor Salaries By Discipline Set – What's the Trend?
See on Scoop.it – Dual impact of research; towards the impactelligent university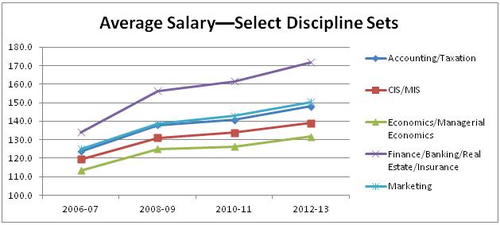 Faculty salaries are an integral part of the education toolbox at any school. In addition to providing the best classes and environment for your students, you also want to provide access to the best faculty available. This can be a tough project at times, especially with shrinking budgets and issues such as salary inversion, which can make hiring decisions even more difficult.
As part of AACSB International's mission to provide data that will help schools meet the challenges they face, a global salary survey is conducted each year and sent to all AACSB member schools. This survey was previously limited to AACSB members in the U.S., but in recent years it has been opened to the full membership. Since then, global participation has been increasing each year. In September 2012, AACSB invited more than 1,200 member business schools and academic units to participate in this year's survey. Reflecting the high value placed on the reports created using the survey data, member participation was significant among accredited institutions at 92% (U.S.) and 76% for all participants with overall participation equating to 78% (U.S.) and 47% for all participants.
As you can see from this table, in most discipline sets, there has been small, but consistent growth in the average salary for professors. Growth was faster in the 2006–2007 to 2008–2009 time frame (% increase range: 7.2–16.7%), but has slowed in the years that followed (% increase range across 2008–2009, 2010–2011, 2012–2013: 1.1–6.4%). On average, the salaries of all discipline sets listed have increased since 2006–2007.
Source: AACSB
See on www.aacsb.edu