Reality Check: Faculty Involvement in Outreach & Engagement
See on Scoop.it – Dual impact of research; towards the impactelligent university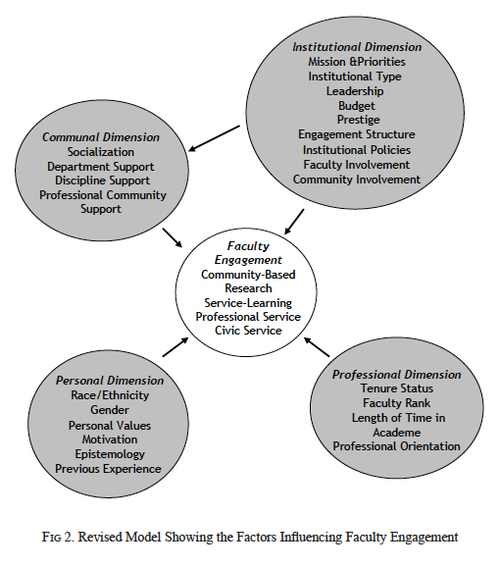 Abstract
A survey of 436 faculty shows the scope and nature of faculty participation in outreach and engagement, factors related to involvement, perceptions of institutional support, and types of changes they felt might expand involvement. The resulting conceptual model highlights the influence of professional, communal, and institutional factors on participation.
The authors:
"The data from this institutional survey show more than three quarters of the faculty are actively involved in outreach and engagement activity, some requiring up to six hours per week. Close to 60% are involved in more than one activity and 40% percent with a combination that includes either community-based research or service-learning, the two most time-intensive activities. If this portrait were even somewhat representative of the reality at other research institutions then the challenges ahead revolve more around integrating these activities with current faculty promotion and tenure policies, and seeking institutional mechanisms to help make the basic work more time-efficient for faculty, rather than convincing faculty to engage."
Ada Demb
Ada Demb is an Associate Professor in the School of Educational Policy & Leadership at The Ohio State University
Amy Wade
Amy Wade is Director of Early Awareness, I Know I Can & Assistant Director of Early College Outreach Undergraduate Admissions and First Year Experience at The Ohio State University.
Source:
Ada Demb. and Amy Wade. "Reality Check: Faculty Involvement in Outreach & Engagement." The Journal of Higher Education 83.3 (2012): 337-366. Project MUSE. Web. 6 Jan. 2013. <http://muse.jhu.edu/&gt;.
http://muse.jhu.edu/journals/journal_of_higher_education/v083/83.3.demb.pdf
See on muse.jhu.edu