Community Engagement and Boundary-Spanning Roles at Research Universities
See on Scoop.it – Dual impact of research; towards the impactelligent university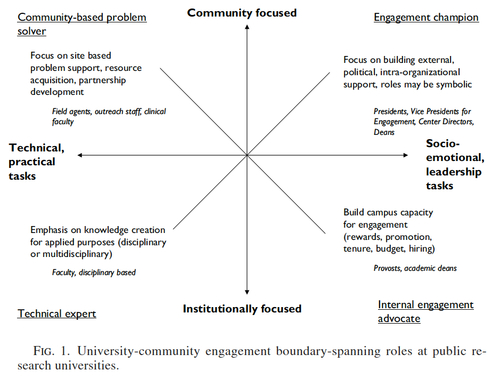 Abstract
Over the past decade, community engagement has emerged as an important priority among many colleges and universities. This study employs a multi-case study design to examine boundary spanning practices of research universities that have adopted a community engagement agenda. A model is advanced to conceptualize spanning behaviors and to inform practice and future research.
The authors:
" our analysis is unique in that it deconstructs the roles of various boundary spanning actors, and thus reveals how conflicts can occur in relation to differences in task roles and distance the community or university. While there is extensive writing and growing research on university-community partnerships (e.g., Amey, Brown, & Sandmann, 2002; Community-Campus Partnerships for Health, 1998; Jacoby, 2003; Maurrasse, 2001; and many more), boundary-spanning roles have not been conceptualized in such a detailed way as the present study. Our analysis helps practitioners consider how individual identities, skill sets, and distance to university/community may contribute to successful or unsuccessful boundary spanning efforts. Practically speaking, this knowledge may help practitioners create role differentiation strategies in order to develop more effective engagement practices both internally and externally. Such strategies may help leaders better mitigate conflicts with communities they serve and among spanners themselves."
David J. Weerts
David J. Weerts is Assistant Professor in the Department of Organizational Leadership, Policy, and Development at the University of Minnesota.
Lorilee R. Sandmann
Lorilee R. Sandmann is an Associate Professor in the Department of Lifelong Education, Administration, and Policy at the University of Georgia.
Source:
David J. Weerts. and Lorilee R. Sandmann. "Community Engagement and Boundary-Spanning Roles at Research Universities." The Journal of Higher Education 81.6 (2010): 702-727. Project MUSE. Web. 6 Jan. 2013. http://muse.jhu.edu
http://muse.jhu.edu/journals/journal_of_higher_education/v081/81.6.weerts.pdf
See on muse.jhu.edu