Measuring Innovation Enabler Impact: Immediate, Intermediate and Ultimate Impact; the Evidence Network impact assessment in action
See on Scoop.it – Dual impact of research; towards the impactelligent university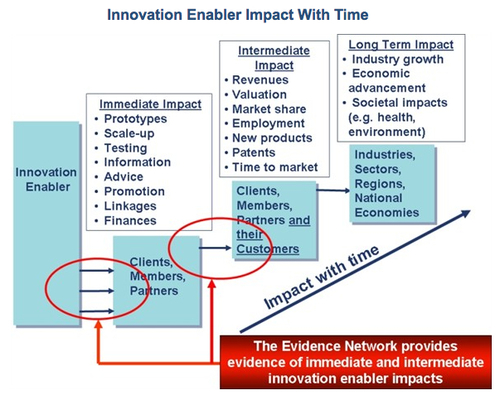 The Evidence Network's performance measurement system measures both mission performance and service performance. In the following we explain these two measures of innovation enabler performance.
The figure below considers the relationship between innovation enabler missions and services, shown on the left, and firm performance and inputs, shown on the right. As a class of organizations, innovation enablers share the common mission of enabling firm innovation or success, and perform an overlapping set of services. But the specific mission of a given innovation enabler will influence the specific services that it provides, as indicated by the downward arrow on the left that connects innovation enabler mission to innovation enabler services. Similarly, firm inputs influence firm performance, subject to the firm's capabilities and the business environment, as indicted by the upward arrow on the right. Firm performance is measured in, for example, revenues, valuation, or new products, services, or processes.
Mission performance is the relationship between of innovation enabler mission and firm performance, as indicated by the top horizontal arrow. It is measured in terms of mission-related results such as increased firm revenues, increased employment, or new patents. Innovation enablers achieve mission performance indirectly, by providing services that affect firm inputs or the business environment. These outcomes of innovation enabler services, over time, impact firm performance.
Service performance is the direct and immediate impact of innovation enabler services on firm inputs. It is depicted by the lower horizontal arrow and reflects the appropriateness and effectiveness of innovation enabler services.
Impact assessment methodology:
http://www.theevidencenetwork.com/media/3389/impact_assessment_methodology_2012.pdf
Examples:
http://www.theevidencenetwork.com/about-us/ten-at-a-glance.aspx
See on www.theevidencenetwork.com