Gateway to research; Key data from the seven UK Research Councils in one location
See on Scoop.it – Dual impact of research; towards the impactelligent university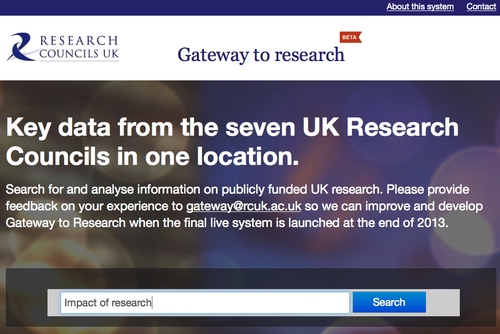 Research Councils UK (RCUK) has just released a 'beta' version of a new web-based portal that gives the public better access to information about research funded by the UK Research Councils.
Gateway to Research aims to provide a mechanism for businesses and other interested parties to identify potential partners in universities to develop and commercialise knowledge, and maximise the impact of publicly funded research.
The beta Gateway to Research contains information such as who, what and where the Research Councils fund, as well as details about the outcomes, outputs and impact held on RCUK's Research Outcomes System (ROS) and ResearchFish.
Professor David Delpy, RCUK Impact Champion, said: "The beta version of Gateway to Research has gone through robust technical testing and is close in look, feel and function to how we envisage the final product, which will launch at the end of 2013. However, it is important that we ensure the data it delivers and its functionality meets the needs of its users.
"We are therefore calling on people to use and interrogate the beta site and provide feedback to RCUK on their experience to inform the development of Gateway to Research over the next year. We would also like to encourage third parties to investigate innovative ways that the data can be used and shared to take it to a broader audience."
The information contained within the Gateway to Research beta version is a fixed snapshot of available information on research, containing real data from all grants across all seven Research Councils awarded from 2006 onwards.
David Willetts, Minister for Universities and Science, said: "Providing the public with a single point of access for Research Council information was a key commitment in the Innovation and Research Strategy, and I'm delighted to see RCUK making such excellent progress. The Gateway to Research portal will help business, policymakers and the wider public across the globe tap into the knowledge and expertise of the UK's world class university research base. This will help them develop networks, foster innovation and drive growth."
This beta system contains a static dataset with a cross-Council set of metadata of research grants and outcomes and a simple CERIF API.
The next steps in the Gateway to Research project are:
Iterative improvement of portal and dataset
Delivery of a range of APIs; demonstration of potential uses of the data using hack days; evolution of the system and dataset to meet the needs of users (February – August 2013)
Release of alpha version of the Gateway to Research, including a sustainable plan for maintenance (mid/late 2013)
Data
A data dictionary defining the fields held on the Gateway to Research is available here. The Gateway to Research portal contains real data from grants awarded from 2006 onwards. The portal should contain information on ALL externally awarded research grants, across ALL seven Research Councils and in addition includes grants awarded to MRC hosted institutes.
Expanding the dataset will include:
Grants awarded to BBSRC and NERC hosted Institutes
Studentships
We will also be building the infrastructure to ensure that the data is routinely updated – the dataset is currently static.
The Outcome data presented draws from the Research Outcomes System (for EPSRC, ESRC, AHRC, BBSRC and NERC) and from e-Val/ResearchFish (for MRC and STFC). Not all the data held on these systems is currently being exposed and we are working with the source systems to improve the accessibility of their data on GtR.
See on gtr.rcuk.ac.uk