Disruptive innovation and the higher education ecosystem post-2012; four types of universities; Ivy Leaugue independents, lucky few, vertically integrated or networked for profit
See on Scoop.it – Dual impact of research; towards the impactelligent university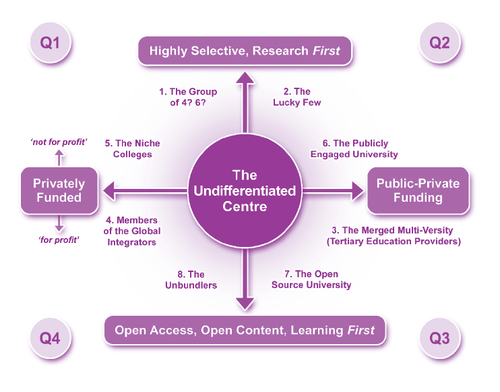 Abstract:
Disruptive innovations in business sectors are arguably triggered by the arrival of new competitors who disturb, or punctuate, an existing equilibrium. They can be aided by changes to a wider context. The ecosystem of professional services has seen major disruptions over the last 10 or 15 years. This paper presents speculative scenarios of pending disruptions in higher education, taking into account the
changes which have taken place in professional services. We present a strategic map of the higher education sector which hints at disruption and differentiation as an ongoing process, albeit one which does not affect all institutions equally. The challenges posed by the potential disruptors will, we argue, require many institutions to respond in new and innovative ways. Innovation in higher education
in areas well beyond traditional research, knowledge transfer and the curriculum will be required to a much greater extent than in the past. We write not to predict but to, hopefully, provoke thought and a greater consideration of potential disruptions in higher education – and how institutions might best respond to these. This paper follows on from our review of 'Leadership and Innovation Lessons from Professional Services Firms' also published by the Leadership Foundation for Higher Education.
A potential new higher education ecosystem
Q1 The 'Ivy League' independents: highly selective,
research intensive, private funding, not for profit
Q2 The very lucky few: highly selective, research intensive,
private and public funding
Q3 The vertically integrated: open access and/or content,
learning focused, public and private funding
Q4 The networked for profits: open access and/or content,
learning focussed, private funding, for profit
Source:
Stimulus paper
Dr Tom Kennie, Ranmore Consulting
Professor Ilfryn Price, Sheffield Business School
First Published in February 2012
Leadership Foundation for Higher Education
Fulltext:
http://www.ranmore.co.uk/downloads/papers/Disruptive%20Innovation%20and%20the%20UK%20HE%20Ecosystem%20Post%202012.pdf
See on www.ranmore.co.uk