The State of University Policy for Progress in Europe » Empower European Universities
See on Scoop.it – Dual impact of research; towards the impactelligent university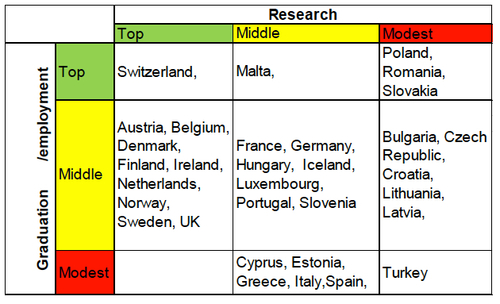 This report presents the debate over the current state, challenges and perspectives of European higher education carried out by highly recognized experts in the field on November 22nd and 23rd in Maastricht (NL). The debate focused on the role that the not for profit, non-governmental organization Empower European Universities (EEU), based in Maastricht, can have in the process of giving European higher education institutions the means to contribute to a more creative and inclusive European society.
EEU aims at evaluating national university policies periodically and fostering better, rigorously evidence based policy-making across Europe. In the intentions of its founders and collaborators, EEU will be able to effectively bring into the political debate the voice of universities and those of civil society. It will monitor the reform process all around Europe and feed it with new ideas, contributing to the Europeanization of higher education. It will help universities in their internal reform processes. Its activity, based on the passion of concerned individuals rather than on the logics of political representation, will make of it a dynamic member of a truly public debate about reforming university.
The link between education and socio-economic outcomes has been widely agreed upon by participants. These outcomes cover a wide range of aspects, ranging from social cohesion and economic growth to the preservation of democracy. Without empowered, well-functioning universities, these societal demands and needs are at stake.
The participants also agreed on the need for a global mapping to monitor higher education's situation, evolution and contribution to social welfare. The term "global" comprises geographical and functional aspects. In terms of geography, EEU focuses on the European context, but is keen to incorporate the results of initiatives involving other countries, as for example the World Bank's SABER project and the OECD's AHELO project, in order to achieve broader understanding. Functionality refers to the intention to develop a global view on how higher education institutions are performing (publications, ability of graduates to find suitable employment, …) and which constraints they are facing (level of autonomy in its different dimensions, funding, …) with respect to their functions (research, training, access, …).
The amount of work that has to be done in order to realize this mapping has been widely acknowledged during the conference. Evidence discussed at the conference diverges from reality of policy making. Policy making is often judgmental, and works according to a logic that may not be based on the existence of good evidence. In addition, policy evaluation should depend on the context, and cannot be done only on the basis of average outcomes obtained through policy application in other countries/regions. Furthermore, risks are high when conducting such an ambitious project. The project's potential usefulness is not called into question. However, one must be aware of the consequences to be carried in case of inadequate project realization.
The structure of the conference was based on individual speeches given by some of the participants. A number of participants was asked to comment upon these speeches. This document reports in chronological order what we consider to be the most important points mentioned by the speakers, and by the commentators. The last comments by Prof. Jo Ritzen, founder and chair of EEU, are used as a conclusion.
Source:
The State of University Policy for Progress in Europe Policy Report
December 20121
Authors
Cecile Hoareau, project leader EEU, research fellow Maastricht
University
Jo Ritzen, chair EEU, professor Maastricht University and senior advisor,
IZA Bonn
Gabriele Marconi, consultant EEU, PhD student Maastricht University
Fulltext:
http://www.merit.unu.edu/publications/uploads/1354635371.pdf
Technical report:
http://empowereu.org/wp-content/uploads/2012/12/EEU_Technicalreport_Dec2012.pdf
Dataset:
http://empowereu.org/wp-content/uploads/2012/12/EEU_Reportsdataset_Dec2012.xlsx
See on empowereu.org