AcademiaMap; the twitter home for scholars; discover and connect
See on Scoop.it – Dual impact of research; towards the impactelligent university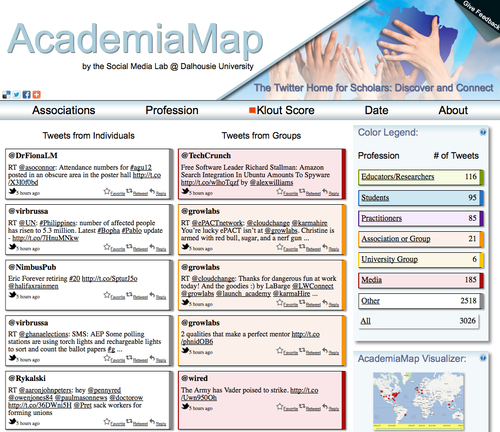 AcademiaMap is an Online Influence Assessment App designed for scholars. AcademiaMap helps scholars to filter the 'noise' from their Twitter streams using various 'influence' metrics and gives scholars an easy way to identify trending topics and interesting voices to follow from Twitter.AcademiaMap Main Features:
Find out who is 'influential' on Twitter among your professional peers.The Dashboard displays tweets using a color-coded system based on the profession or role of the Tweeter. Each tweet displayed on the Dashboard also includes some basic information about the account owner, such as their number of followers, location, and Klout score.
Find out who is 'connected' to whom among scholars on Twitter.The Visualizer is a geospatial visualizer. It is a companion app to the AcademiaMap Dashboard. It visualizes communication connections of scholars who had tweeted on a world map. Connections shown in the Visualizer are based on who-mentioned-whom and who-retweeted-whom.
Data Sources:
AcademiaMap follows only public Twitter accounts and collects only public Twitter messages. The current version of AcademiaMap follows the public tweets of any scholar who has been followed by the following scholarly organizations (others will be added in the future):@asist_org – American Society for Information Science & Technology (ASIS&T),@grand_nce – GRAND NCE, a multidisciplinary research network exploring the application and advancement of graphics, animation and new media in Canada,@ir12 – Association of Internet Researchers.
See on www.academiamap.com