Best Practices in Assessment of Research and Development Organizations with special section on impact assessment
See on Scoop.it – Dual impact of research; towards the impactelligent university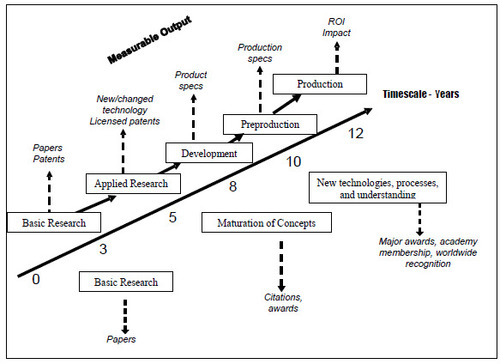 Research and development (R&D) organizations are operated by government, business, academe, and independent institutes. The success of their parent organizations is closely tied to the success of these R&D organizations. In this report, organizations refers to an organization that performs research and/or development activities (often a laboratory), and parent refers to the superordinate organization of which the R&D organization is a part. When the organization under discussion is formally labeled a laboratory, it is referred to as such. The question arises: How does one know whether an organization and its programs are achieving excellence in the best interests of its parent? Does the organization have an appropriate research staff, facilities, and equipment? Is it doing the right things at high levels of quality, relevance, and timeliness? Does it lead to successful new concepts, products, or processes that support the interests of its parent?
This report offers assessment guidelines for senior management of organizations and of their parents. The report lists the major principles of assessment, noting that details will vary from one organization to another. It provides sufficient information to inform the design of assessments, but it does not prescribe precisely how to perform them, because different techniques are needed for different types of organizations.
Best Practices in Assessment of Research and Development Organizations covers three key factors that underpin the success of an R&D organization: (1) the mission of the organization and its alignment with that of the parents; (2) the relevance and impact of the organization's work; and (3) the resources provided to the organization, beginning with a high-quality staff and management.
Contents:
2 Framework for Examination of Assessment Processes
3 Assessing Management
4 Assessing Technical Quality
5 Assessing Impact
6 Guidelines for Consideration During Assessment
Appendix A Biographical Sketches of the Panel for Review of Best Practices In Research and Development Organizations
Appendix B Importance of Alignment Between an Organization's Vision and Its People
Appendix C Validating the Assessment
Appendix D Example of Peer Advice During the Planning Phase of R&D
Appendix E Relevant Statutes and Requirements Documents for U.S. Government Laboratories and U.S. Government Research
Appendix F The Army Research Laboratory's Process for Assuring Relevance
Appendix G Examples of Stakeholders
Appendix H Questions Pertaining to Assessment of Leadership and Management
Appendix I Sample Crosscutting Assessments
Appendix J Assessment at the National Institute of Standards and Technology, Army Research Laboratory, and Sandia National Laboratories
Appendix K Examples of Peer Review Conducted at Federal R&D Organizations
Appendix L Metrics Applied by National Research Council Panels to Assessment of the Army Research Laboratories
Special section on assessing the impact and relevance:
(section 5, page 38-41):
Addressing the following questions will be useful in the assessment of an organization's
relevance and impact:
1: Does the organization have a process for identifying its stakeholders and customers?
2: Does it have a regular process for reviewing its programs and plans with its stakeholders?
3: Does the organization have a process for learning of its customers' current and likely
future needs and expectations for the organization?
4: Does the organization have an explicit process for tracking the utilization of its results
(e.g., is transition to the next R&D stage actively managed and measured)?
5: Does it have a formal program for recording the history of its work from concept to final
utility or impact?
6: Does the organization have a program to conduct retrospective studies of its earlier work?
Source:
Best Practices in Assessment of Research and Development
Organizations
Panel for Review of Best Practices in Assessment of Research and
Development Organizations; Laboratory Assessments Board; Division on
Engineering and Physical Sciences; National Research Council
ISBN
978-0-309-26626-0
90 pages
National Academies Press at
http://www.nap.edu/catalog.php?record_id=13529
Fulltext: http://download.nap.edu/cart/download.cgi?&record_id=13529&free=1
See on www.nap.edu