What is my impact? Tracking the Impact of Scholarly Publications in the 21 st Century
See on Scoop.it – Dual impact of research; towards the impactelligent university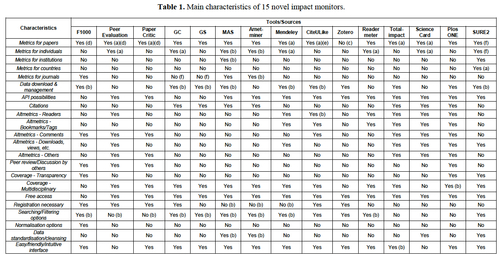 Abstract
What is my impact? This question has become ever more pressing for all actors in the scientific and scholarly system. The shift to web based publishing has enabled new impact measurement tools that may address the current limitations of peer evaluation and citation analysis. This paper presents the first comprehensive assessment of the limitations and strengths of the most current novel impact monitors. We link this analysis to the literature about alternative impact metrics, such as webometrics and altmetrics. We conclude that a set of interesting novel information tools have emerged and will probably keep emerging in the next few years.
(wm: F1000, Peer Evaluation, Paper Critic, GC, GS, MAS, Arnet-miner, Mendeley, CiteULike, Zotero, Readermeter, Total-impact, Science
Card, PlosONE, SURE2)
They enable a rough indication of publication impact for the individual researcher. At the same time, these tools do not yet produce metrics that can be used for more formal forms of research assessment at either the individual level or at the levels of research groups and universities. We discuss the reasons for this conclusion. We also propose to understand the development of these impact monitors by analyzing 'users'.
Source:
Users, Narcissism and Control—Tracking the Impact of Scholarly Publications in the 21st Century
Paul Wouters and Rodrigo Costas
Paper presented: http://2012.sticonference.org
Fulltext: http://2012.sticonference.org/Proceedings/vol2/Wouters_Users_847.pdf
See on 2012.sticonference.org