Mid-sized companies and business schools are compromising growth by not working closer together
See on Scoop.it – Dual impact of research; towards the impactelligent university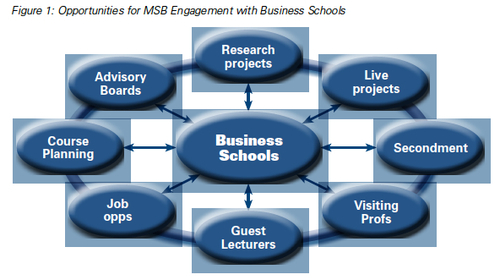 The Business Schools Task Force, which produced the report, was chaired by Professor Sue Cox, Dean of Lancaster University Management School. The Task Force was set up by the Government in November 2011 to report on options for improving access to appropriate courses and promoting links between mid-size businesses, business schools and students.
The report recognises that there is a lot of good work already being done, but issues a call to action saying that more must be done to help mid-sized companies – firms that have been described as the "muscles" of the economy, by Business Minister Michael Fallon.
Practical steps
The report sets out a number of practical steps to help improve how business schools and the 10,000 mid-sized companies in the UK work together to support growth, improve company management and develop courses that are attractive to local firms.
Recommendations from the report include:
Business schools should actively target mid-sized firms, offering them taster sessions and tailoring their courses to the needs of their local mid-sized businesses.
Mid-sized companies should work with their local business school to examine their management practices and look at how they could be improved.
Business schools should promote careers in mid-sized companies to their students, and should encourage speakers from mid-sized firms to come and speak at their schools.
Mid-sized businesses should be involved in the management and advisory boards of business schools to ensure that the voice of local firms is heard.
The Task Force is made up of business school leaders and business representatives. It was set up to examine how business schools from across the country could support and improve the management of the 10,000 mid-sized firms in Britain. The report was commissioned by the Government as part of the mid-sized business growth review.
Fulltext:
http://www.bis.gov.uk/assets/biscore/further-education-skills/docs/b/12-1290-business-school-mid-sized-business-collaboration.pdf
See on www.lums.lancs.ac.uk