Glasspockets.org – Transparency and Accountability In Giving
See on Scoop.it – Dual impact of research; towards the impactelligent university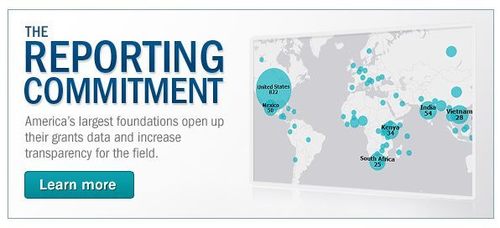 Through Glasspockets, the Foundation Center showcases the online transparency and accountability practices of the largest foundations.
Their news release: A group of the largest U.S. foundations have formally committed to release their grant information in a consistent, open, and frequent manner, in an effort to more effectively address the issues facing our communities and our world. To date, 15 foundations have partnered with the Foundation Center and agreed to open up their grantmaking data in this initiative known as the "Reporting Commitment.""In essence, the Reporting Commitment liberates grants data from the confines of a single foundation and brings knowledge sharing to the fore," said Judith Rodin, president of the Rockefeller Foundation, one of the 15 current participants. "This effort — with its emphasis on transparency and collaboration — positions data as a strategic resource within and beyond the philanthropy sector."
Grant information, which will be reported at least quarterly by each foundation, is available on the Foundation Center's transparency-centered web site, Glasspockets.org. Data from the participating foundations is in a machine-readable open format and coded to an open geographic standard, developed by the Foundation Center known as GeoTree. An interactive map of the data — also available on Glasspockets.org — allows people to see at a glance the national and global reach of America's largest foundations.
"By making their grants information available in open format and in near-real time, these foundations are helping philanthropy join the era of Big Data," said Bradford Smith, president of the Foundation Center. "This brings us one step closer to being able to see how foundation grants, government spending, and private investments are coming together to address the issues of our time."
The participating foundations made this commitment to each other and the field based on the belief that accurate and accessible information is critical to effective collaboration, strategic decision making, and a more engaged philanthropy sector. Foundations around the world — large and small — are encouraged to join the Reporting Commitment, increasing their own transparency and contributing to the knowledge resources that drive philanthropic impact. Additional information and resources for foundations interested in participating are available on Glasspockets.org.
"As more and more foundations join the Reporting Commitment, new insights will emerge from the data, with benefits that reach far beyond the participating foundations," said Larry Kramer, president of the William and Flora Hewlett Foundation, another participant in the initiative. "Open access to accurate, consistent, current data will make it easier for organizations and people seeking grant dollars to find effective partners for their work, greatly enhancing the philanthropic sector as a whole."
Source: http://www.glasspockets.org/
See on www.glasspockets.org