A guide to monitoring and evaluating policy influence; a typology for influencing activities
See on Scoop.it – Dual impact of research; towards the impactelligent university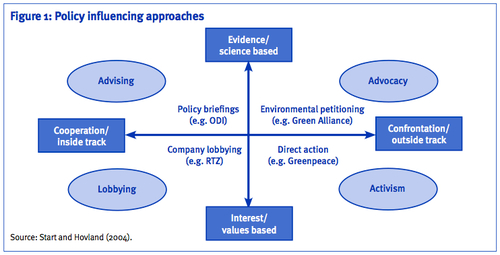 This paper looks at how to monitor and evaluate activities that aim to influence policy. A starting point, then, is to look at what 'policy' is, and how to understand change (or stasis) in policy. Rather than seeing
policy as one single, discrete decision, it is important to broaden one's view, so that policy is understood as a series of documents and decisions that are best described as a set of processes, activities or actions.
The author mentions five key dimensions of possible policy impact:
• Framing debates and getting issues on to the political agenda: this is about attitudinal change drawing attention to new issues and affecting the awareness, attitudes or perceptions of key stakeholders.
• Encouraging discursive commitments from states and other policy actors: affecting language and rhetoric is important to, for example, promote recognition of specific groups or endorsements of international declarations.
• Securing procedural change at domestic or international level: changes in the process whereby policy decisions are made, such as opening new spaces for policy dialogue.
• Affecting policy content while legislative change is
not the sum total of policy change, it is an important elemen
• Influencing behaviour change in key actors: policy change requires changes in behaviour and implementation at various levels in order to be meaningful and sustainable.
See on www.odi.org.uk