Showcasing Impact Series 7: Trinity College Dublin new Research Showcase
See on Scoop.it – Dual impact of research; towards the impactelligent university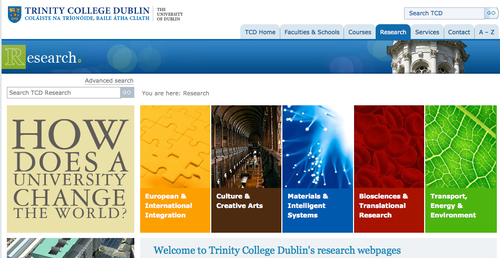 Trinity College Dublin seems clearly focused on five key areas – European & International Integration, Culture & Creative Arts, Materials & Intelligent Systems, Biosciences & Translational Research and Transport, Energy & Environment. The visitor's attention is activated upon first visit.
But when we proceed to the research showcase page we end up in a flash like presentation of statistics and rankings. A bit disappointing.
Back to the homepage and proceed with the selection of the key areas. The visitor ends up in a mainly text oriented section with some news stories on research, but not much.
The Itunes channel TCD is more exciting:
http://itunes.apple.com/nl/institution/trinity-college-dublin/id401888483
See on www.tcd.ie