Showcasing Impact Series 10: University of Southampton; changing the horizon
See on Scoop.it – Dual impact of research; towards the impactelligent university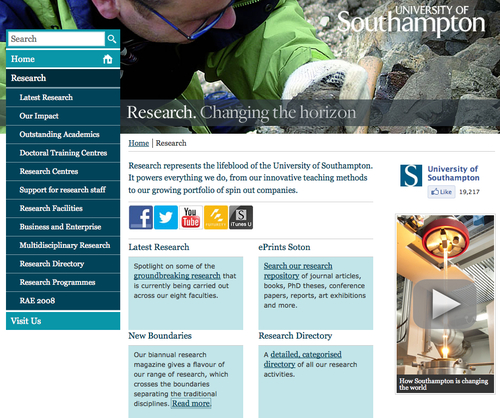 University of South Hampton, homebase of the impactful ePrints repository software and obviously much more. The key areas are clearly presented; World Wide Web, Wind tunnels, Implants, developmental health, cancer sciences.
Although the website shows a lot of impactful business, the visitor has to go multiple levels deep to get the information. This is a minor point because the there is enough content to discover.
Once you are one the right level, you get what was promised: impact stories, for example of their success with business (link below).
The research magazine New Boundaries is a biannual research magazine. It gives a flavour of our broad range of research, which crosses the boundaries separating the traditional disciplines.
The Itunes university channel looks very nice and motivating:
http://itunes.apple.com/nl/institution/university-of-southampton/id449810928
Examples of stories: http://www.southampton.ac.uk/business/success_stories/
See on www.southampton.ac.uk