The successrate in ERC calls 2007-2011: Starting & Advanced Grants: less than 14%
See on Scoop.it – Dual impact of research; towards the impactelligent university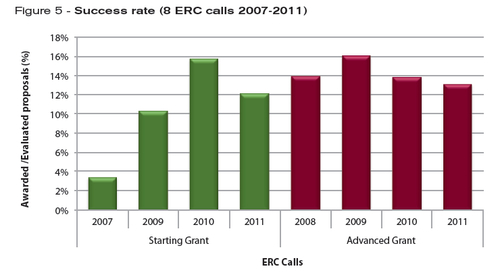 The ERC supports investigator-driven frontier research through a competitive review process greatly recognised and highly respected by the entire scientific community, based on the sole criterion of scientific excellence. For each ERC call, approximately 2,800 members of the science, engineering and social science and humanities
communities participate in the excellence review process as panellists and external reviewers.
In 2011, the percentage of proposals awarded through this process over the total number of proposals evaluated in the Starting Grants was lower than in 2010 due to the large increase in the number of submitted proposals (42%), while the call budget increase was only 10%. The success rate dropped from 15.8% in 2010 to 12.1% in 2011.
The success rate of the Advanced Grants fell slightly to 13.1% in 2011 from 13.8% in 2010 (see Figure 5).
Source: Annual report ERC 2011, page 37.
See on bookshop.europa.eu