The Aarhus Declaration2012; defining six fundamental "excellence in research" principles
See on Scoop.it – Dual impact of research; towards the impactelligent university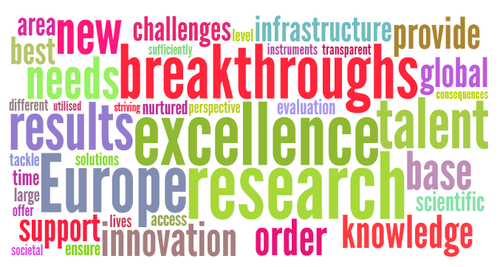 The ERC Excellence declaration defines what excellence should be in research, but what is excellence in research?
"The prevailing focus on supporting incremental research of high productivity can certainly reach levels, which may be defined as excellent. But, there is an even higher level of excellence to aim for. When aiming for excellence, one should aim at the stars: At new knowledge which changes paradigms, invents new fields and open opportunities with broad societal consequences. These are the kind of breakthroughs that form the base for new products and processes that bring benefit to people in their everyday lives.
To reach this level of excellence we need to foster scientific research with an ambition to challenge accepted views and knowledge which can result in real breakthroughs. This kind of ambition is much more risky, it needs a longer time perspective and it is normally less productive. But it has a higher probability of making a real difference.
Moreover, frontier research serves a wider purpose as it ultimately is a public good that benefits humankind. The capability to perform excellent research as well as the results yielded are public goods to be utilised for the good of all on a local, national, regional and global scale. Access to research results, infrastructures and funding should be ensured, making it possible for researchers across fields and disciplines, students and society to share and learn.
Excellent research should be identified by careful evaluation of research proposals and applicants, carried out in an open competition by internationally acclaimed experts. The evaluation should follow internationally acknowledged standards and criteria in a fair and transparent assessment procedure that prevent national, social or gender bias. By doing so, it is possible to identify and support the very best people with the most ambitious ideas.
Excellence is the essential foundation that secures the development and availability of human capital to meet the needs of the future. How is excellence in research sustained and nurtured?
Now more than ever we need intense and coordinated transversal research. At the same time, Europe must give room and priority to bottom up, investigator driven research evaluated against excellence as the main criterion, as well as striving for excellence when targeting research funding to specific challenges and research areas. In addition, Europe should monitor and ensure a better regulatory environment to allow research to flourish.
Trust and freedom
In order to achieve groundbreaking results, outstanding researchers deserve trust and should be encouraged to pursue ambitious, original, and daring research ideas as these are most likely to lead to major new insights and results. While acknowledging accountability for the spending of public funds, excellent research organisations as well as the individual researchers need adequate freedom and flexibility in handling research grants.
Long-term perspective
Some research endeavors may offer immediately applicable results, in other cases, the relevance or impact of results may not be recognised until later when more advanced technologies are available or when they become relevant to the research conducted in other fields. Therefore, a long-term perspective is necessary when pursuing truly novel research and when evaluating the success or impact of research. Consequently, universities and other research institutions must be offered sufficient trust in order to set up and pursue longterm projects based on ideas and competences in their staff.
Creative and dynamic research environments
Excellence requires investing in excellent working environments. Outstanding researchers and ambitious ideas thrive in creative and dynamic research environments that provide a healthy balance between competition and collaboration. A large degree of flexibility and autonomy should be given to excellent research groups enabling them to find the model of organisation best suited to find solutions to the problems they work with.
Beyond and across disciplines
To understand and tackle today's complex challenges, we have to rise above and work beyond the "silos" of different disciplines, providing research funding that stimulates the exchange of knowledge between different research areas. Cross-disciplinary work tends to open up whole new fields of research. Excellent researchers whose ideas require research efforts spanning traditional fields, and that are able to lead such multi-disciplinary work, will be key players in the process of strengthening the European science base.
Recognising and nurturing talents
All European countries have a common obligation to provide conditions that allow the identification and support of talent everywhere, regardless of nationality, social background or gender. Reinforced action beyond encouragement is needed to attract and retain people to pursue a research career in order to fully utilise the indispensable contributions of the talent pool. Europe cannot afford to let talent go unnoticed and unnurtured.
Europe needs to offer the best possible career opportunities for young, talented researchers. The best possible opportunities are to be provided for talented students, postgraduates and post doctoral researchers. This calls for investment in first-class national educational systems that can identify and support particularly talented people, while raising the overall scientific and intellectual performance of the majority.
State of the art infrastructure
If European research is to remain a global leader for scientific and innovative breakthroughs, state-of-the-art infrastructure and instruments are to be provided in Europe to attract the best researchers on a competitive basis. Coherence in European research can be strengthened through collaboration on strategic planning of large and expensive research infrastructure. A common effort to finance excellent European research infrastructure can serve as a starting point for establishing excellent research environments where scientists from all over Europe work together in striving for new knowledge and insight."
Fulltext of the declaration:
http://www.excellence2012.dk/fileadmin/www.excellence2012.dk/pdf/exc_declaration_FINAL_screen.pdf
Wordcloud of 10 100 words:
http://www.tagxedo.com/artful/11f44965eee448dd
See on www.excellence2012.dk