ERC Monitoring & Evaluation scheme: distinquising Direct Impact, Structural Impact and Derived Impact of research
See on Scoop.it – Dual impact of research; towards the impactelligent university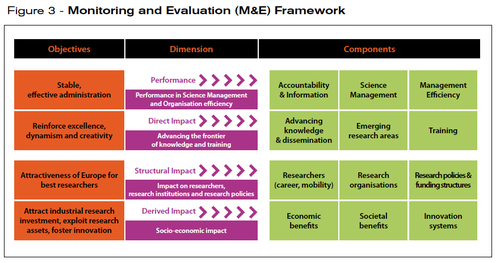 The ERC Scientific Council is entrusted also with the task to "monitor quality of operations and evaluate programme implementation and achievements and make recommendations for corrective or future actions".
In June 2009 the Scientific Council adopted an "ERC Monitoring and Evaluation Strategy", outlining the approach that the ERC will take to monitor the performance of its operations and the impact of its funding activities. The Strategy provides a plan on how the Monitoring and Evaluation (M&E) activities of the ERC will be initiated, implemented and given due follow up with the aim to generate a broad and integrated understanding of the ERC's performance and impact. This will enable the Scientific Council to take necessary measures for optimising its scientific strategy and maintaining or improving the quality of the operations and overall performance. It will also provide all interested parties with timely, relevant and reliable information on ERC activities
and their impacts. Taking into account the mission of the ERC and the funding policies developed by the ERC Scientific Council, four evaluation dimensions have been identified around which the ERC M&E activities will be organised. The four
dimensions, corresponding to four objectives of the "Ideas" Programme, are schematically represented in the Figure above in relation with a series of components around which M&E activities will be organised.
Source: ERC anual report 2009, pp. 18-19
Fulltext of the ERC annual report:
http://erc.europa.eu/sites/default/files/document/file/erc_2009_annual%20report_0.pdf
See on erc.europa.eu