Research Universities and the Future of America: prosperity is beyond impact
See on Scoop.it – Dual impact of research; towards the impactelligent university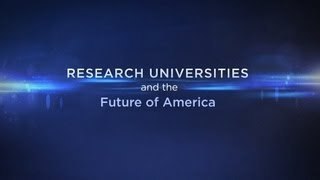 Stanford President John Hennessy and other leaders say strong research universities key to U.S. prosperity
A new report says research institutions are in danger of serious decline unless the federal government, states and industry take steps to ensure adequate and stable funding.
L.A. Cicero Stanford President John Hennessy
What can be done to help America's research universities maintain stellar programs that lead to better jobs, a stronger middle class, technological advances and overall prosperity and national security?
A group of CEOs, thought leaders and university presidents – including Stanford's John Hennessy – outlined its recommendations in a new report released Thursday by the National Research Council.
The report, requested by congressional leaders worried about the competitiveness of America's universities, suggests 10 actions the nation should take in the next decade to maintain top-quality institutions.
It says research institutions are in danger of serious decline unless the federal government, states and industry take steps to ensure adequate and stable funding.
At the same time, the report says universities must meet goals to contain costs, enhance productivity and improve opportunities for faculty and students to create highly productive careers.
"We have a long and rich tradition of innovation in this country, but if we are to remain a global leader in this century, we must find ways to increase support for our research universities," Hennessy said. "Education and research – and the discoveries and advances in science and technology that result – are key in today's knowledge-based economy."
The report notes the strong and sustained support universities have had with federal and state governments, and their partnership with industries. It says those ties have positioned the institutions to be the best in the world.
More recently, however, the universities have endured pressure from economic challenges, global competitors, changing demographics and evolving technologies.
Federal funding for research has flattened or declined, and state funding for research institutions has dropped by 25 percent to as much as 50 percent in some cases, the report says. U.S. colleges also have had to raise tuition.
At the same time, other countries have increased funding for research and development and are pouring significant resources into their own institutions.
The committee recommends Congress and the White House fully fund the America COMPETES Act, which would double the level of basic research conducted by the National Science Foundation, the U.S. Department of Energy and the National Institute of Standards and Technology. Congress also should at least maintain current levels of funding for basic research across other federal agencies, the report says.
Such support would achieve a balanced research portfolio and ensure that universities would be able to educate "the scientists, engineers, physicians, teachers, scholars and other knowledge professionals essential for the nation's security, health and prosperity," the report says.
The committee also calls on states to strive to restore appropriations for higher education that allow public research universities to operate at world-class levels.
It says, too, that to reduce university costs, federal and state governments should reduce regulatory burdens on the institutions.
Businesses, which have long relied on research universities for talent and technology, also should play a bigger part in ensuring their health, the report says. Federal and state policies should encourage collaboration between U.S. national laboratories, businesses and universities in order to enable large-scale, sustained research projects.
Hennessy said it was an honor to serve on the committee.
"I believe that support for the American research university is an investment in our nation's long-term growth and security," he said.
The National Research Council is the principal operating agency of the National Academy of Sciences and the National Academy of Engineering.
The Alfred P. Sloan Foundation, John D. and Catherine T. MacArthur Foundation, National Science Foundation and U.S. Department of Energy sponsored the study.
By Brooke Donald
http://news.stanford.edu/news/2012/june/hennessy-universities-report-061512.html
Report fulltext: http://www.nap.edu/catalog.php?record_id=13396
See on www.youtube.com